The Robson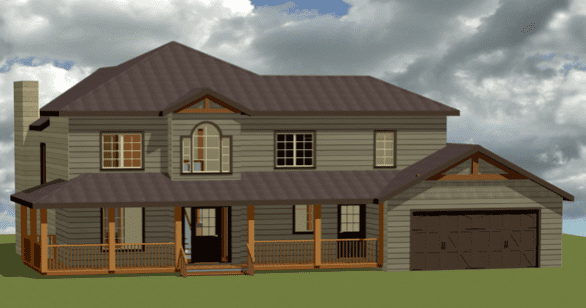 Total Area: 2013 Sq. Ft.
Overall Dimensions 60 x 40′
The Robson, a 2,013 square foot hybrid timber frame design, has a classic two-storey country look, featuring three bedrooms and three bathrooms. The covered deck and entryway, along with the timber gable details, create nice curb appeal.
As a result of a simple footprint and efficient layout, this is an extremely cost-effective timber frame design.
Walking through the front door of this home, you find yourself in the entryway, with 18-foot high ceilings that lead directly into the vaulted timber frame great room. The great room is full of windows for maximum natural light to highlight the wood beams, and provide views of the backyard.
The main living area centers around a built-in fireplace and entertainment unit that can be customized to fit your needs and style.
The kitchen and dining area are completely open to the living area, with a flat timber ceiling above them to give an extremely roomy feel to this main floor. The kitchen sink is located on a large island, creating a very functional kitchen for prep work and cooking.
A large walk-in pantry is located between the garage entry and the kitchen to make it easy to access when bringing in groceries from the car, as well as getting groceries from the kitchen. Both entryways also feature walk-in closets for coat and shoe storage.
All three spacious bedrooms are on the second floor and are connected by a catwalk that overlooks the great room. The large master bedroom has its own walk-in closet and a four-piece ensuite bath, with dual sinks and a soaker tub.
The den is another great feature of this home – with double doors, it can be opened up, to feel like part of the great room, or be closed off for a quiet space to work. It could also double as a spare bedroom for guests.
The last, and one of the most important things to note about this and all of our other plans, is that these designs are simply meant to give you ideas for a starting point. Every home we build has its own custom plan, and we never build the exact same house twice. So, if you see something close to what you like, we can use that as a starting point, or if you don't see anything you like, feel free to come in and sit down with us and we can draw you your own custom plan from scratch. We look forward to hearing from you!

Message Us
Get In Touch Below. Ask Any Question or Set Up a Free Consultation
Office Location
904 Redonda Street,  Winnipeg, MB 
Walk through the home building process before you start building your new home.
Get our weekly email that shows you what you will need to do when you decide to build your new dream home, one step at a time.