"We can wholeheartedly recommend the professional builders at Pine Creek Homes."
"Both projects were completed on time, on budget and on specification by a highly professional friendly and competent crew."
"We were very pleased with the results and not surprising when their work was featured in a March edition of the Canadian Home Trends magazine."
"Design collaboration with the Pine Creek team was fun and a great learning experience. They really listened and understood our esthetic and accommodated every whim we had. Our dream cabin was finished right on schedule, on budget and exactly like we had envisioned it!"
"Working with Pine Creek Homes was a dream. They listened and understood what we were wanting in our dream home. They're the perfect custom home builder, we can't recommend them enough"
"From preliminary design, to drawing completion, to helping us with interior design. They were awesome, they have the patience of Saints. The actual on site construction project went so smoothly. The site stayed clean, everything ran on time, and the trades were all lined up perfectly. "
"Our build with Pine Creek Homes was a pleasure from start to finish. The process was interesting and we were totally involved from the very beginning."
"They really listened and understood our esthetic and accommodated every whim we had. Our dream cabin was finished right on schedule, on budget and exactly like we had envisioned it!"
"Design collaboration with the Pine Creek team was fun and a great learning experience. They really listened and understood our esthetic and accommodated every whim we had. Our dream cabin was finished right on schedule, on budget and exactly like we had envisioned it!"
"From preliminary design, to drawing completion, to helping us with interior design. They were awesome, they have the patience of Saints. The actual on site construction project went so smoothly. The site stayed clean, everything ran on time, and the trades were all lined up perfectly. "
"Working with Pine Creek Homes was a dream. They listened and understood what we were wanting in our dream home. They're the perfect custom home builder, we can't recommend them enough"
"Pine Creek Homes was all about our vision for our home. They spent the time to ensure that all aspects of the design reflected and complemented what we were looking for our home to be.
Our build ran smoothly with possession on schedule! The people at Pine Creek Homes made the experience great!
We would recommend them to anyone building their dream house. We love our new home!"
"We were part of the build even though we didn't physically build it, that's one of the things I will remember most."
~Darwin
"It wasn't stressful and I am pretty shocked by that. Josh & Amanda were there to answer every question and help make the right decisions."
~Julie
"When you're building a custom home there are a lot of things to take into account and a lot of things you don't realize. Pine Creek addressed every question and concern we had immediately, they were a joy to work with."
~Hank
"We have been building with Pine Creek Homes for close to 30 years."
"They have always been able to take our ideas and create a fabulous final product with all the same professionalism and highest quality workmanship."
"Thank you from the bottom of our hearts! Construction of any kind can be filled with tension, difficulties and delays – but honestly, you made it easy for us. From the first meeting until completion we knew we were in good hands. 
I appreciated your patience in dealing with me as I tend to be very particular, ask a lot of questions and have high expectations. As our project move forward, I believe there was great communication on your part to provide clarity and explanations, which was very important to me. Not only did I understand the entire process, but I was always able to connect with someone". "From our perspective everything seemed organized, on track and you were able to successfully meet an aggressive deadline."
"Our family loves to spend time there and that's what it's all about! We look around at the quality workmanship, the big timbers, the attention to detail, and are reminded of the professionalism your family and company exemplifies. However it's not just the professionalism – it's clear to see that you love what you do. 
Until we have need of your services in the future we would be happy to discuss or recommend Pine Creek Homes to anyone that may be considering a project of your own. 
Thank you once again"
"Pine Creek homes were an excellent company to work with. Their service is top notch and their follow up is excellent.
They guided us through the building process with great attention to detail with a friendly and customer focused approach."
"We had a wonderful experience with Pine Creek, they were very professional from the day we met and we felt very comfortable that we would get the product we wanted— they delivered! We got the keys before they said we would— that never happens. They delivered everything we wanted and more."
"The cottage is amazing. We had several meetings with them to review plans and ideas, they listened to us and took all of our little ideas and wants and turned our cabin project into our dream home.
From preliminary design, to drawing completion, to helping us with interior design.
"They have the patience of Saints. The actual on site construction project went so smoothly. The site stayed clean, everything ran on time, and the trades were all lined up perfectly. Any sways in the budget were all our doing, it's hard not to change your mind on little things along the way.
This was our third build, and second time Timber Frame. We couldn't be any happier. We have received so many compliments on our cabin and we give the Veenstra's all the credit, and tell everyone we know which Builder we dealt with.
Thanks again"
"We felt taken care of, and that Pine Creek knew how important this was to us."
"We have worked with Pine Creek Homes on several projects, both large and small. Their experience was immensely valuable throughout the process.
They have the ability to look several stages ahead as drawings are being developed and make insightful recommendations that improve the quality of the end product and save costly mistakes. The same is true during the construction phase where they are able to adjust for modifications along the way.
They have always stayed on top of the project until the very last detail was complete and post construction has been there for us with continued exemplary customer service. The Veenstra Family and Pine Creek Homes will always be our first choice builder for any future projects."
"Our first experience in having a home built was made a pleasure by Pine Creek. Their attention to detail and the level of quality that they set for themselves and for their trades results in peace of mind. We couldn't be happier with our new home."
"We highly recommend Pine Creek Homes to anyone who asks. From start to finish, our project went smoothly and we're now living in our dream home overlooking the lake!"
"All of the projects have been preformed professionally with the highest quality of workmanship."
"Design collaboration with the Pine Creek team was fun and a great learning experience.
They really listened and understood our esthetic and accommodated every whim we had.
Our dream cabin was finished right on schedule, on budget and exactly like we had envisioned it!"

"They never said we can't do that, they worked hard on every detail, they were honest and we trusted them throughout the process."

"We have done a number of projects with Pine Creek Homes and are extremely satisfied with their service, product and quality, second to none."
"Pine Creek Homes is one of the very top builders in Manitoba, you work directly with the principles, and they do everything possible to ensure you have a quality product completely to your satisfaction.
They stand one hundred percent behind the work of their sub-trades and themselves as the general contractor.
We have recommended them to several friends, family and associates and they have never let us down."
"Very satisfied with the courteous and professional workmanship Pine Creek offered during our build. The process was flawless and well organized.
We had full confidence in the build and were very pleased with the outcome. Would not hesitate for any jobs required in the future!"
"Pine Creek are experienced craftsmen who enjoy what they do and they do it exceptionally well, and they are very accommodating if changes have to be made during construction."
"We had a very personal design vision and Pine Creek was with us all the way, enabling our priorities, making the aesthetics work with the practicalities of the build; and ensuring the final product lived up to everything we had dreamed."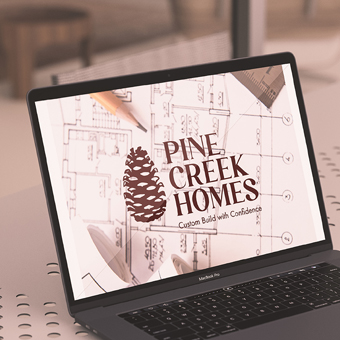 Get Started On Your Dream Home With Our Latest Custom Plans
Download a free copy of our custom floor plans book. It's full of pictures and designs to inspire your dream home!
A proud member of these associations