The Franklin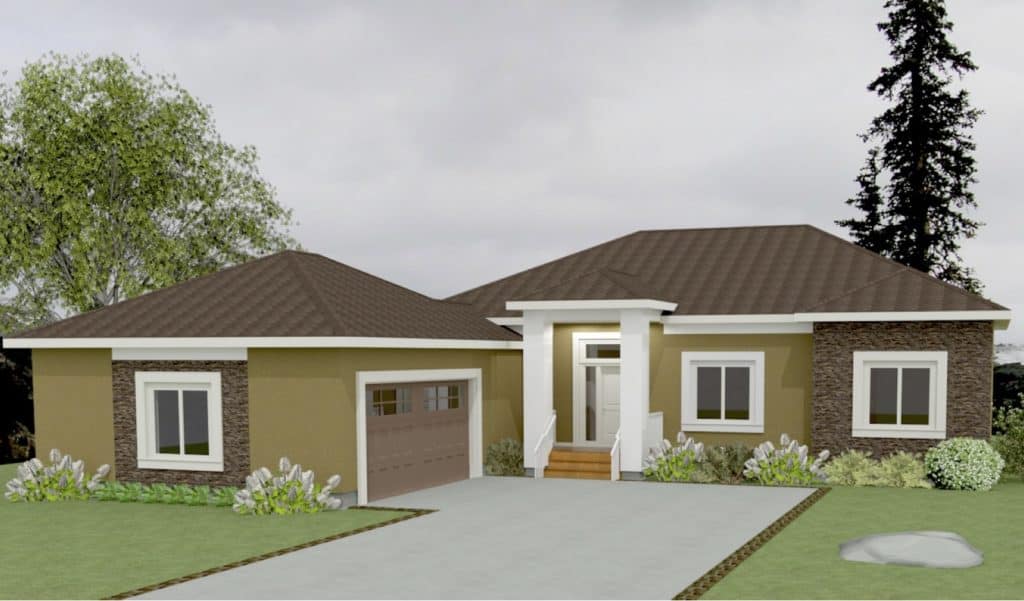 Total Area: 1607 Sq. Ft.
Overall Dimensions 61.5′ x 60′
This is one of my favourite plans on the site. This 1,607 square foot, three-bedroom, two-bath design is super cost-effective and is a great starting point for designing a custom plan. Many of our clients have used this as a starting point and then modified and customized the design to come up with their own dream home.
The fact is, when you start with a well-laid-out design, keeping it efficient and cost effective, making modifications is much easier. This plan is a big brother to the Birch and a little brother to the Sawtooth.
This design is laid out in a way that ensures no space is wasted. Entering the home through the garage entrance (which is generally the daily route), you have plenty of closet space for boots and coats. There is an option for main floor laundry in that area or the space could be used for coat hooks and benches. Remember, the point of building a custom home is to use the space how YOU feel would best suit your needs and lifestyle.
The mudroom walks in through the kitchen to make grocery delivery easy and from there, into the great room. (Check out the Sawtooth plan for an example of how this entryway can be reconfigured). A common upgrade on this plan is to do a vaulted ceiling throughout the great room. It is a cost-effective way to really open up the space and give the space a roomy feel.
There is plenty of glass in the great room that takes advantage of natural light and the views that your property has to offer. The corner fireplace is a nice feature and can be seen from anywhere in the great room.
The kitchen in this design has plenty of prep space on the countertops with a large eat-in island, that is also very functional for serving food and entertaining.
The bedrooms are all in the same area and configured in a way to maximize the use of the space. The master bedroom has its own ensuite and walk-in closet and takes advantage of a backyard view.
The garage on this home is done at a 90-degree angle to the house for a nice curb appeal, but on a wider lot, it could be turned to the side of the house as well.
The last, and one of the most important things to note about this and all of our other plans, is that these designs are simply meant to give you ideas for a starting point. Every home we build has its own custom plan, and we never build the exact same house twice. So if you see something close to what you like, we can use that as a starting point, or if you don't see anything you like, feel free to come in and sit down with us and we can draw you your own custom plan from scratch. We look forward to hearing from you!

Message Us
Get In Touch Below. Ask Any Question or Set Up a Free Consultation
Office Location
904 Redonda Street,  Winnipeg, MB 
Walk through the home building process before you start building your new home.
Get our weekly email that shows you what you will need to do when you decide to build your new dream home, one step at a time.